At the 6th edition of DIDAC India awards, ONVU Learning receives recognition for its revolutionary
360-degree teacher training solution Lessonvu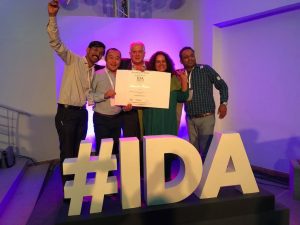 New Delhi, September 27, 2019: Proving its technological excellence in the field of education, ONVU Learning, a subsidiary of ONVU Technologies, has been felicitated with a Distinctive Citation in the 'Innovation of the Year' Award Category at the 6th edition of IDA Awards – Corporate. The award ceremony was held at the Bengaluru International Exhibition Centre on September 25th in Bangalore.
The award ceremony was part of DIDAC, India's only and Asia's largest Exhibition and Conference as well as industry recognition programme. It celebrates and rewards excellence in Initiatives, Products, Resources, Solutions, and Services. Its 'Innovation of the Year' award is handed out to innovative, cutting-edge and user-friendly technology, hardware, equipment, flexible infrastructure, sport equipment, and any other tool, product, service, or a solution that comes across as leading-edge in the teacher-learning environment.
Lessonvu is an intuitive and powerful 360-degree video lesson recording and review solution. It facilitates the secure recording, sharing, review and analysis of the entire teaching and learning environment, and puts the teacher in complete control. The solution brings together decades of experience in the education space and has been designed from the ground up with teachers, their needs and their CDP requirements in mind.
Abhishek Kumar, ONVU Learning Regional Director said, "We are extremely honoured to receive the 'Innovation of the Year' Distinctive Citation. At ONVU Learning, we always strive in creating solutions that can create tangible improvements in schools, while empowering teachers with simple, easy to use and yet impactful products. We've seen how the Lessonvu solution, coupled with ONVU Learning's Align methodology, was instrumental in helping The Doon School with their remote coaching needs, and we're truly excited for all the other opportunities we have in the pipeline here in India. The award proves that we are headed in the right direction and that creating solutions based on empathy for the real needs of the education sector is certainly paying off."
India is today at an interesting crossroads and has been revamping its education sector to prepare the nation for the upcoming global opportunity. The nation is currently home to more than 1.3 million schools and around 900,000 teachers enter the education sector every year. It has launched several programs over the years to improve the quality of pedagogical training throughout the country such as The New Teacher Development Policy 2019. Perhaps, solutions such as the one offered by ONVU Learning can prove to be a game-changer in this scenario.